News
Posted on Jun. 14, 2021
June 14, 2021: We were recently informed of two additional cases of COVID-19 connected to Art Smith Aviation Academy. We are working closely with Alberta Health Services (AHS) to ensure necessary measures…
Posted on Apr. 29, 2021
Come meet Mme. Shauna, Mr. Vining and Mrs. Farrell to learn more about Kindergarten at Art Smith! Stay tuned for more information about our Open House scheduled for June 4th! STAY AWESOME! Watch on YouTube
Posted on Feb. 24, 2021
DO YOU HAVE A LITTLE ONE READY FOR KINDERGARTEN IN AUGUST? Complete this form and be the first to know when registration opens and to be entered into a special prize draw including a $100 gift certificate…
2020
Posted on Aug. 20, 2020
All NLPS Cold Lake schools will be doing staggered on September 1 and 2 for students in grades 1 to 12 by last name. September 1: Last Names A-K September 2: Last Names L-Z If these dates do not work…
Posted on Jun. 25, 2020
We hope everyone has a happy and health summer break!! We will see everyone back in September. Please keep an eye on our Facebook page and the website for COVID updates! 
Posted on Apr. 29, 2020
While we were unable to do our Open House night, we want to give families some information and show off our amazing Kinder program. Please check out our video and call the office at 780-594-1404 if you…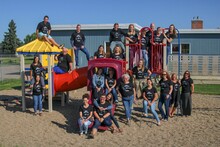 Posted on Apr. 28, 2020
IS YOUR FAMILY MOVING TO COLD LAKE OR LOOKING FOR SOMETHING DIFFERENT FOR YOUR SCHOOLING OPTIONS?Have you looked at Art Smith Aviation Academy?? We are the HOME OF THE LIGHTNING and we STAY AWESOME everyday!*…
Posted on Mar. 14, 2020
UPDATE ON SCHOOL OPERATIONS Hello, Lightning families, this is to update everyone on operation changes on 4 Wing and how that is going to impact us here at Art Smith. Yesterday, the Wing Commander announced…
Posted on Mar. 12, 2020
COME SEE WHAT MAKES LIGHTNING SO AWESOME!! On March 26th we will host a parent night from 6 pm to 8 pm. There will be an information session/Q&A on both our English program and our French Immersion program.…
Posted on Mar. 9, 2020
Check out all the awesome! Click for Lightning News on YouTube!
2019
Posted on Jun. 24, 2019
June 26th: Last Day for All Students June 28th: Office Closes for the Summer July 1: Summer Cadet Training Centre takes over operations of Art Smith Academy, no access for ASAA staff for the remainder…